DR/BC The Difference Between Disaster Recovery and Business Continuity
---
Jay Pillai, Ph.D. Posted on June 22, 2015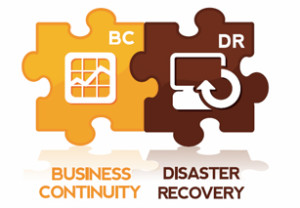 What is disaster recovery and business continuity and how do they differ?
Disaster recovery and business continuity are so closely related that they are often confused and many times they will be combined as Business Continuity and Disaster Recovery or BCDR or BC/DR.
Disaster recovery is simply the area of an organizations security that focuses on protecting that organization from the negative effects of a significant disastrous event. A disastrous event can run the gamut from terrorist attacks, critical equipment failures, earthquakes, tornadoes and other natural disasters as well as cyber attacks.
Many socially critical organizations such as hospitals, banks, police departments, etc are required to have a disaster recovery plan in place. However, most businesses find that having one in place severely increases their chance of recovering after a disaster.
A disaster recovery plan is the strategy that a company will use to limit the disruption to their organization in the wake of a disaster. It documents the policies, procedures and actions that the business will take. In a nutshell, a disaster recovery plan is the documentation of actions that the organization will take in the event of a disaster to maintain or resume business as quickly as possible.
Disaster recovery is usually centered more around the IT areas of an organization. Actions such as recovering servers or mainframes, re-establishing private brand exchanges or provisioning local area networks to meet critical business function needs.
Business Continuity generally centers more around business operations as opposed to IT and data recovery. Business Continuity planning still consists of documentation of policies, procedures and actions that an organization will take in the event of a disaster. However, it will generally plan out the implementation of disaster team duties, vendor notification, asset management, employee management and customer care.
As you can see disaster recovery and business continuity coincide with each other and will generally work hand in hand. The end result however is a documented plan that gives clear and distinct instructions to organization personnel during a disaster.
---
Categories: Disaster Recovery Planning, DR Plans
---