3 mistakes business owners make
---
Alexis Scott Posted on June 23, 2015
3 mistakes business owners make
Business owners are a special breed. They are the jacks of all trades and the number of hats they wear would make any head heavy. It is both a curse and a blessing as many have found out through trial and error. While the roads to success are varied and there is not a perfect formula or magic solution; there are many common traps to avoid if you want to find success in business. Here is a list of three mistakes business owners make.
1 Unclear Purpose with No Strategy
Every organization must articulate why it exists and what it's striving to achieve. Owners must focus time and attention on developing a mission and vision. It doesn't matter if the business is a Fortune 500 company, delivery service, neighborhood dry cleaner or international airline. Every organization needs to understand its reason for existence which is the anchor for all business decision making.
There is an old saying, "if you fail to plan, you plan to fail." Developing a strategy and having a plan to achieve objectives is critical to any organization's success. Large or small, every business needs a plan. Devoting time at least once a quarter to review the strategy and organizational goals helps to ensure the business is moving intently in the planned direction.
Idea – Pull together a mastermind group of people you trust and respect that are involved in your business. These people should be intelligent, creative and able to brainstorm. Once a quarter, take this group out away from the office to a neutral setting and discuss strategy. Take the afternoon or evening with this group and brainstorm things like:
Where your business is going.
What has been working and what needs to be removed?
What exactly are you trying to achieve with your business?
Who are you serving?
What single function does your business serve above all else.
What is the #1 goal that needs to be achieved this quarter?
What steps are needed to make this goal a reality?
You will likely find that by listening to the input of your team, many new ideas and opportunities will present themselves to you. At the end of the day though, don't forget that ultimately your business success rides on your shoulders. Successful business owners are able to take in the input of valued colleagues and filter out the nonsense and then choose a course of action developed from a well thought out plan.
2 Operating Without a Budget
The number of businesses that wing it with their financials never ceases to astound me. In this particular scenario there are no better words than to say that if you don't tell your money where to go, you will wonder where it went. Budgets are an absolute critical cornerstone to any successful business strategy. Far too many business owners neglect setting and reviewing budgets and the truth is that it doesn't have to be near as complicated as it may seem. Budgets are enormously important to the operation of your business; not only do they help you manage your costs, but they also help you determine whether you profit goals are within reach and keep you on the right road from month-to-month. In its simplest form, a budget is a detailed plan of future receipts and expenditures. Think of a budget as a tool for providing control. For example, by looking at next quarter's budget you can anticipate peak periods and schedule stock and labor to handle the sales volume. You can also plan vacations, marketing activities and inventory taking for slow periods.
A budget can be as simple as something like this: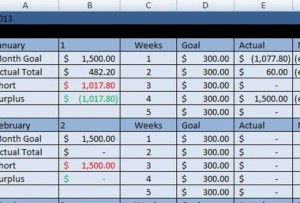 Or you can go more in depth by utilizing software like this.

It really boils down to what your business needs. Whatever you do, don't kid yourself into believing that you don't need a budget at all.
3 Failing to plan for the unexpected
Fact: Things will happen that you did not plan on. Just like in your personal life; your business will be hit with unexpected twists and turns. You need to have plans in place to help your business suffer through these unexpected occurrences without collapsing. Here are a few off the top scenarios and ideas of what you can do to help your business make it through.
Key employee unexpectedly leaves:
So many business owners end up relying far too much on 1 or 2 key employees. I am not dismissing the importance of having vital employees that you can count on as your right hands. More often than not these may be your direct assistant or office manager. These are the people that tend to set up accounts, order supplies, control finances, etc. Make sure that you know the logins, passwords, account numbers and systems used by these people so that you are not scrambling if they decide to leave.
Thousands of natural disasters occur every year. Everything from floods to tornadoes, fires to earthquakes. That doesn't even count acts of terrorism, system hacking and employee sabotage. Do you have a disaster recovery and business continuity plan in place? This is probably the most commonly committed mistake by business owners. There is a reason that only 30% of business that suffer from a natural disaster are able to recover. You have to ask yourself the following questions in the event of a disaster.
Do my employees know what to do?
Who will notify my customers of any missed orders, etc.
Who will notify my insurance
How do I let my vendors know?
How will we recover our system processes?
Do I have my machinery / collateral information stored for insurance purposes?
Fortunately for you there is an extremely simple solution for this problem. A business continuity plan such as the one offered by Stay in Business provides a simple, turn key solution for your business. You can set up teams, store documents, notify vendors, notify customers and manage employees all from a cloud based system that is accessible from anywhere.
As a business owner you should not allow more than 20% of your business to come from any single client. In rare circumstances this rule may not apply if you are very niche and perform an extremely specialized function that revolves around one or two industry specific clients. In these circumstances you would protect yourself with enforceable contracts and binding agreements. For the rest of the business world you want to make sure that your business is spread across many customers so that you do not find yourself out of business if that client moves on.
A classic example of this is the big box store scenario. Often times a small manufacturer may find themselves in a deal with a big box store that wants to carry their product. The manufacturer suddenly finds their order going from a few thousand units a month to hundreds of thousands or even millions. The manufacturer ramps up production by expanding their facilities and hiring lots of new employees. The manufacturers operations are now reliant on orders from the big box store who is 80-90% of their business. Now the business completely belly up if the customer decides to stop doing business. An even worse scenario is when the big box store knows the predicament the business owner is in and decides to start negotiations over pricing again. This is never good for the business owner and can be easily solved by ensuring that no customer is ever more than 20% of your business.
Avoiding these mistakes will put you one step closer to succeeding where so many others have failed. While there are no sure fire magic solutions to finding your business success, there are things you can do with a little planning, insight and forward thinking that will help you avoid many of the common pitfalls that plague business owners across the world.
---
Categories: Uncategorized
---